Description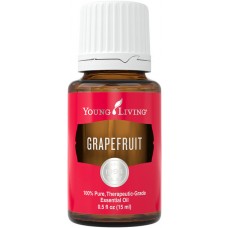 Young Living cold-presses Grapefruit essential oil from the peels of the fresh fruit for a citrusy oil with the bright aroma of a grapefruit orchard. It's this sweet, invigorating aroma that members enjoy for its ability to encourage feelings of joy, satisfaction, and playfulness.
Not only is Grapefruit oil perfect for diffusing, but it's also a great addition to DIY skin care products from lotions to bath salts. Get creative and combine it in a salt body scrub with other skin-toning oils such as Lemon and Juniper for a simple home spa experience that gives your skin a smooth-looking glow.
Grapefruit essential oil is said to thin the slime layer over fat cells allowing fat to flush from your body better. Many people drink a few drops in their water every day (be sure to not drink essential oils out of plastic, they break down petro chemicals and can destroy your cup and release the chemicals into your body). You can also add a bottle of Grapefruit oil to a bottle of V-6 Vegetable oil and rub this on your skin on areas you'd like to smooth the appearance of your skin and help support an area you want less fat in.
Grapefruit is also an oil to help lift the spirits with it's bright, citrus scent.
Grapefruit essential oil uses:
When you're feeling the tired, hungry, 3 p.m. lag, diffuse Grapefruit for an invigorating aroma that can support a sense of positivity to help you power through.
Treat yourself to a luxurious, essential oil-infused massage with V-6™ Vegetable Oil Complex and Grapefruit essential oil, focusing on desired areas. You'll love the invigorating aroma and smoother-looking skin.