Description
We are excited to share a new product that our staff is loving! Giddy Up Vitamin Drink with Energy is specially formulated for people with a demanding lifestyle. It helps support clarity, mental alertness and focus for "The Long Haul" and has a great berry flavor.  Check out the ingredients! It is a quality product made in the USA. It uses high grade vitamins, minerals, plant extracts, and specialty items. It is manufactured with the utmost care and quality assurance in an FDA registered and cGMP certified facility. The manufacturing facility uses the latest technology during the manufacturing process to ensure the highest quality product.
Giddy Up Vitamin Drink With Energy Benefits:
REDUCE STRESS
B complex, other vitamins
and amino acids
ENERGY
Fuel that drives your body's
cellular engines✝︎
SUPPORT IMMUNE FUNCTION
Super fruits,
antioxidants and vitamins
MENTAL CLARITY
Vitamins, herbs and
amino acids
SUPPORT HEALTH
Provides your body with over
120 nutritional ingredients
CONVENIENCE 
3oz. bottle
small enough for on the go
Giddy Up Vitamin Drink With Energy Facts!
Take a look at our nutritional enriched formula.
Full of cellular energy✝︎ for a more natural feeling energy.
"GIDDY UP"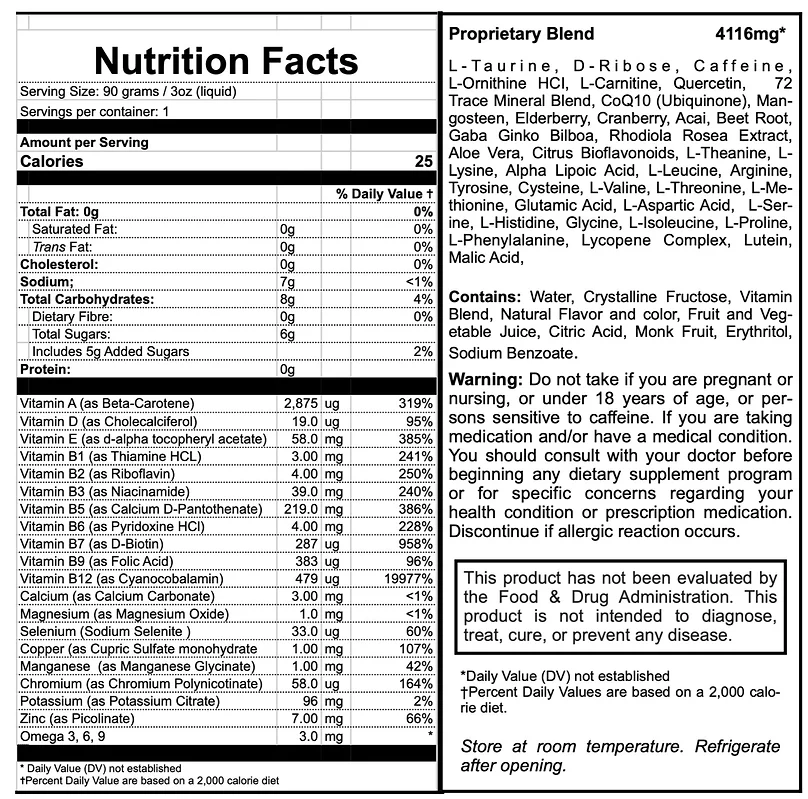 Caffeine amount in Giddy Up Vitamin Drink With Energy equals about the same as a 12oz. cup of premium coffee.
This energy is not to be confused with an energy product that stimulates you like a cup of coffee. 
At the end of the day you're going to say,
"I still feel pretty good"
GIDDY UP IS A PRODUCT MADE FOR THE LONG HAUL!
*This product has not been evaluated by the Food & Drug Administration. This product is not intended to diagnose, treat, cure, or prevent any disease.
Cellular Energy✝︎
ATP Energy: Many of the nutritional ingredients that are in GIDDY UP provide a more natural cellular energy experience along with stamina. It is the nutritional fuel your body's trillions of cells use to produce ATP (Adenosine Triphosphate), the cellular energy molecule. D-Ribose and CoQ10 are found in almost every living cell, it is what each cell depends upon to fuel its production of ATP, which in turn powers your entire body